Product Description
hesco barrier Defence blast wall for safety
Hesco barrier Defence blast wall for safety HESCO Barrier also known as Rock basket retaining wall, hesco barrier, flood control barrier, etc. which is made of the steel welded mesh and lined with non-woven geotextile, can be filled with sand, earth, cement, stone, then as a defensive wall or bunker and widely used in the military to protect safety.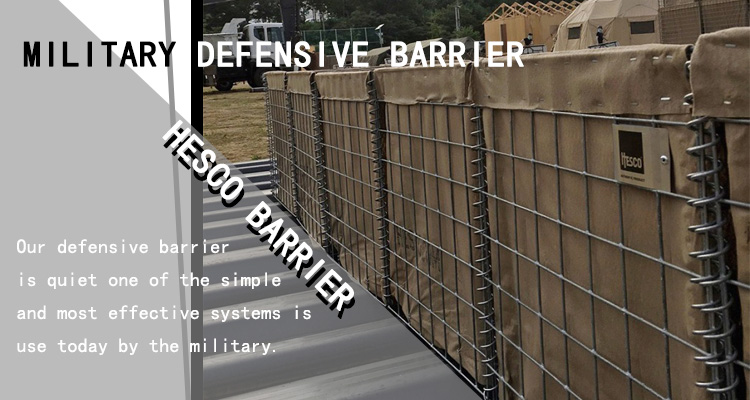 Production ID

Sample name (general name alias)

Hesco barrier

Size

Panel size:1*1m,1*2m,1.5*2m,0.5*2m,2.12*1.52m,1.37*1.22m,2.21*2.13m and so on.

Attribute (more critical attribute)

Wire diameter:4mm-5mm

Mesh size:50*50mm,76.2*76.2mm,75*75mm

Material:black wire, galvanized wire

Surface Treatment:Hot-dipped Galvanized, Galfan Coated

production methods

Galvanized wire-straighten-welded-spring-assemble and install

General purpose

military defensive,Flood control and disaster relief
hesco barrier Defence blast wall for safety Features
1. A pre-fabricated gabion of galvanized welded mesh steel fitted with a UV-protecting.
2. Polypropylene geo-textile liner.
3. Filling material is an easy- obtained mix of sand and small stones.
4. It can be used together to any length, and can be stacked for additional height.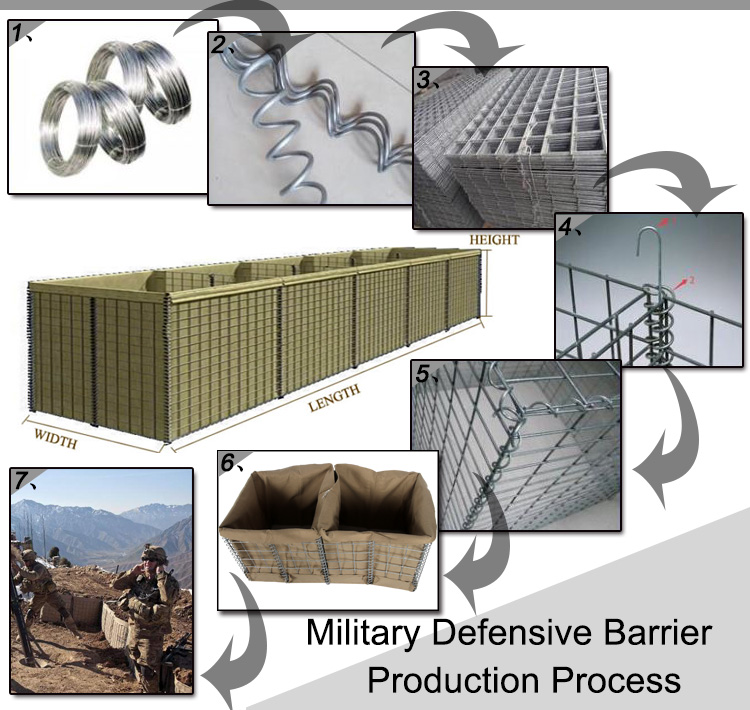 hesco barrier Defence blast wall for safety military gabion basket hesco barrier features:
1. Economical. Just fill the stone into the gabions and seal it.
2. easy installation. No special technology needed.
3. Weather proof under natural destroy, corrosion resistant.
4. No collapse even under big scope of deforming.
5. Sludge in the stones is good for plant growing. Mixed to form a integrity with the natural environment.
6. Good permeation can prevent the damage by hydrostatic.
7. Less transportation freight. It can be folded together for transportation and further installation.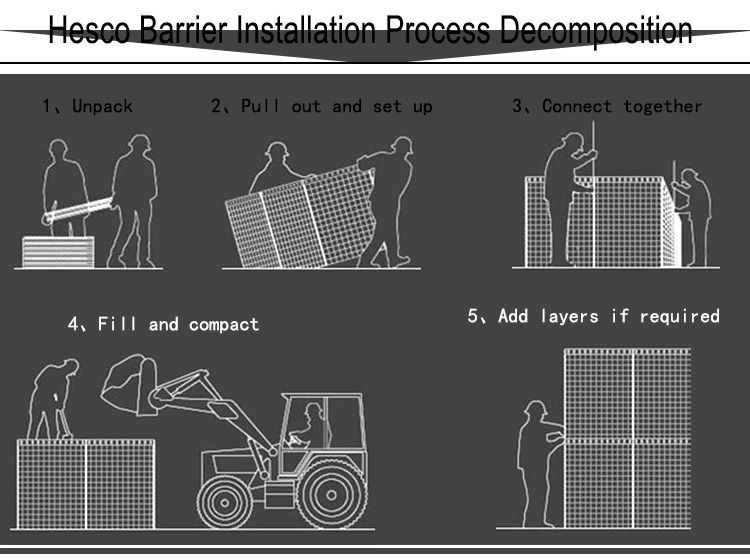 hesco barrier Defence blast wall for safety military gabion basket hesco barrier installation:
1, Ends, diaphragms, front and back panels are placed upright on the bottom section of wire mesh.
2, Secure panels by screwing spiral binders through the mesh openings in adjacent panels.
3, Stiffeners shall be placed across the corners, at 300mm from the corner. Providing a diagonal bracing, and crimped over the line and cross wires on the front and side faces. None are needed in interior cells.
4, Gabion box filled with graded stone by hand or with a shovel.
5, After filling, close the lid and secure with spiral binders at the diaphragms, ends, front and back.
6, When stacking tiers of the welded gabion box, the lid of the lower tier may serve as the base of the upper tier. Secure with spiral binders and add pre-formed stiffeners to exterior cells before filling with graded stones,.