Product Description
cheap curved welded bending wire mesh metal fencing
3D fence panels an economical version of the panel system, constructed from a Welded Wire Fence with longitudinal profiles that forms a rigid fence.Due to its simple structure ,easy installation and nice appearance,more and more customers regard this product as the preferred common protective fence.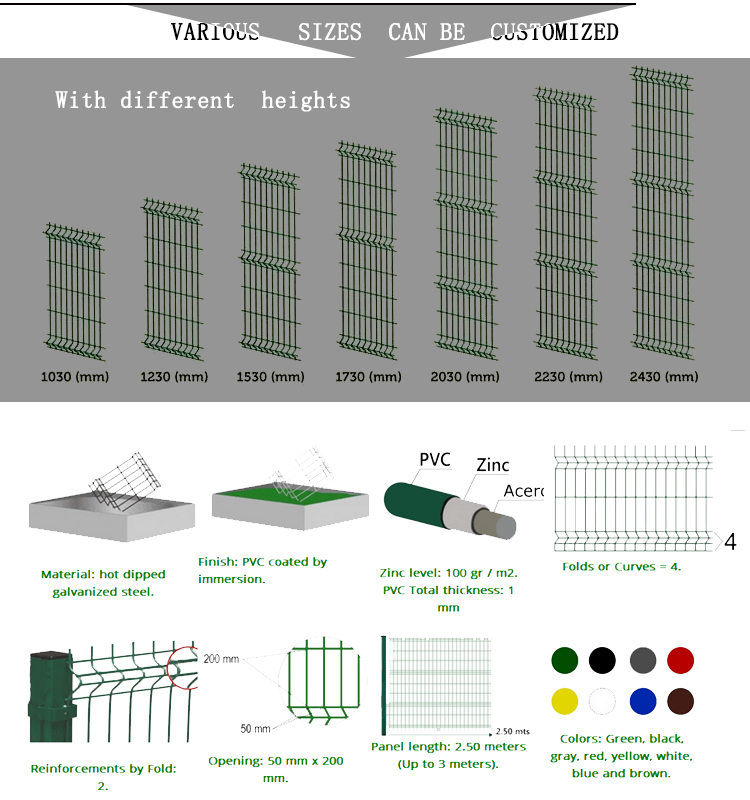 Sample name (general name alias)
Triangle bending fence
Size
panel size:1.5*2.5m,2*2.5m,2*2.4m
post size:1.03m,1.23m,1.53m,1.73m,2.03m
Attribute (more critical attribute)
Wire diameter:3.0-5.0mm
Material:low carbon steel wire
Surface treatment: Hot Dipped Galvanized+PVC Coated/ galvanized+powder painted/hot dipped galvanized only/hot dipped galvanized+ powder painted
production methods
Material-straighten-welding-galvanized-bending-spray-finiashed
General purpose
decorate and protect industrial, Perimeter, residence, effect highways, roads, railways, airports, factories, residential area, port, municipal green spaces, garden flower beds, green areas, garden.
Detailed introduction
Using high quality of the steel as raw material. The welded wire fence panel, after galvanization, PVC/ powder coating; it can resist the corrosive and ultraviolet radiation very strongly. The thickness of powder coating is 100 - 120 microns usually. The choose wire diameters are 2.0 - 8.0mm. It obtains high strong powders to resist the construction.
1>Electric Galvanized Then PVC Coated
2>Electric Galvanized Then Powder Coated
3>Hot Dipped Galvanized Then PVC Coated
4>Hot Dipped Galvanized Then Powder Coated
5>Hot Dipped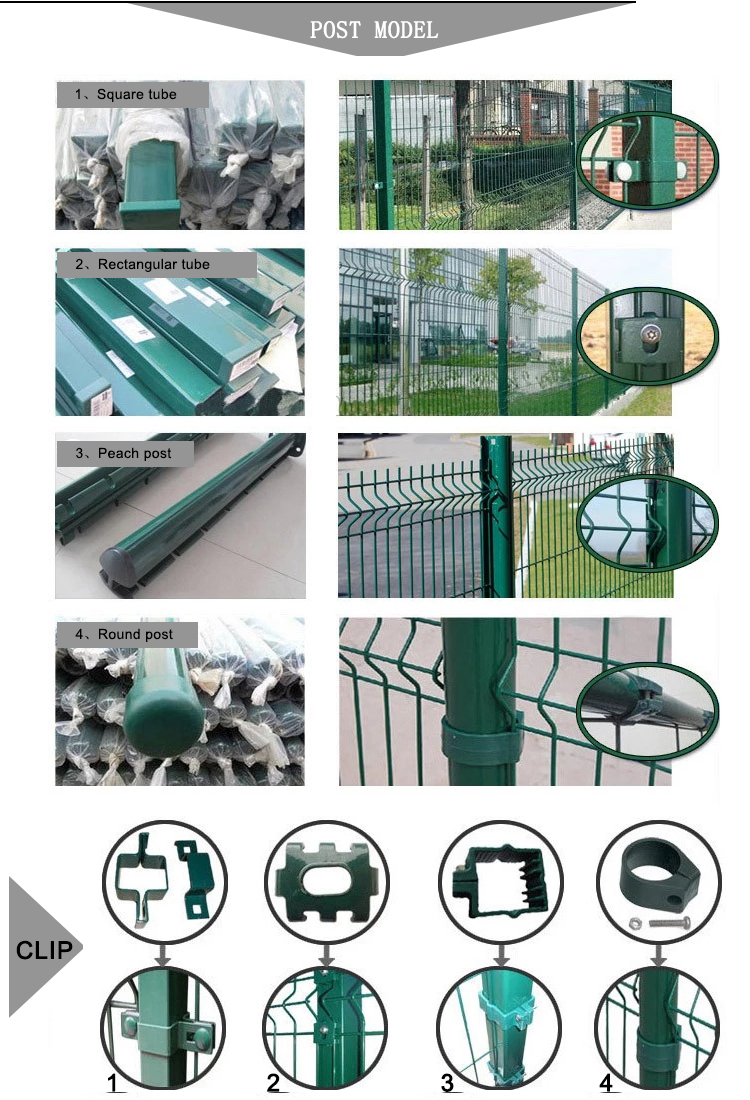 We can produce and provide various mesh fences. Our mesh fence products enjoy such properties as corrosion resistance, aging resistance, sunshine resistance and weather resistance.
Forms of corrosion resistance include electric galvanizing, hot-dip galvanizing, PVC spraying and PVC coating.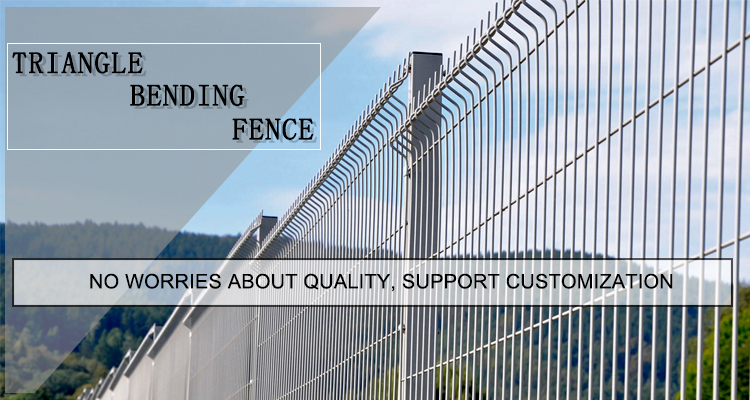 This kind of fence netting is beautiful,suitable for any hypsography, and convenient in installation.
--Advantages:
1.The fence has comparatively high overall strength and very apparent decorative effect;
2.High grade plastic dipping with 20 yearsguarantee rust resistance;
3.To install and disassemble easily.Can be reused. Can be adjusted according to the fencing needs;
4.Environmentally friendly products. Can be ultimately recyclable.
--Triangle Fence Post Specifications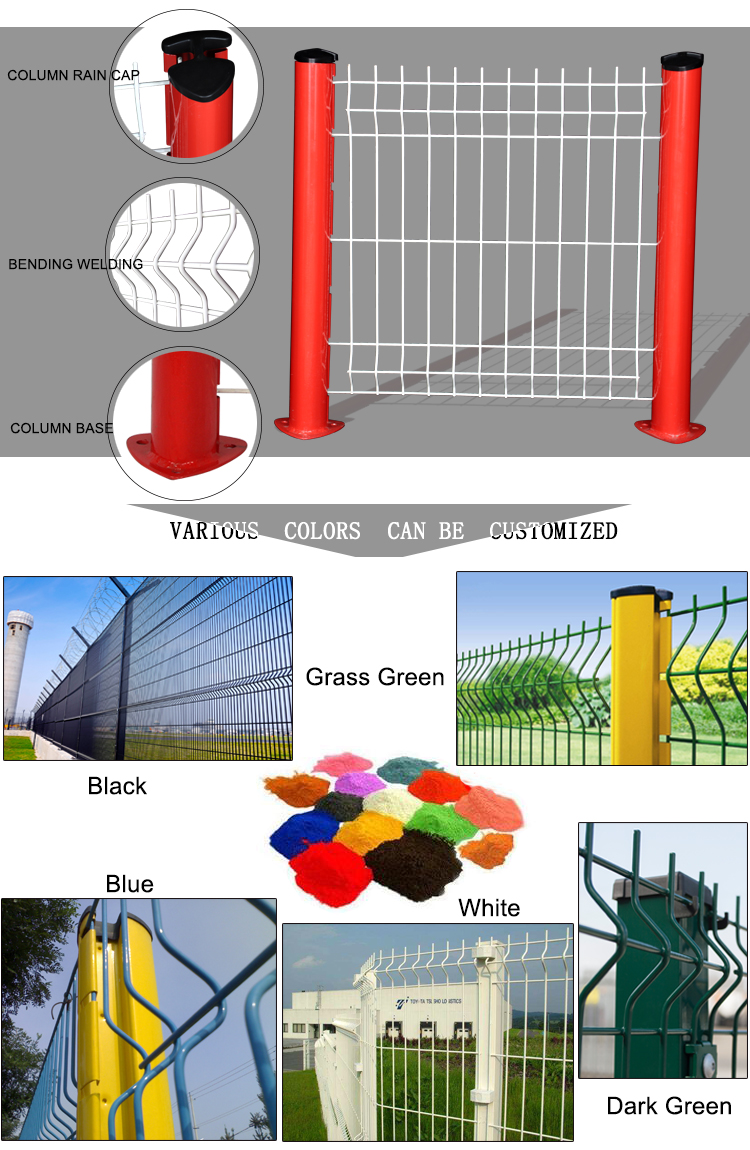 Welded wire mesh Packaging:
The panels of wire mesh fence: wrapped by wooden pallet with plastic film, to keep the panels clean;
The Clamps of wire mesh fence: in small carton box , to avoid damage;